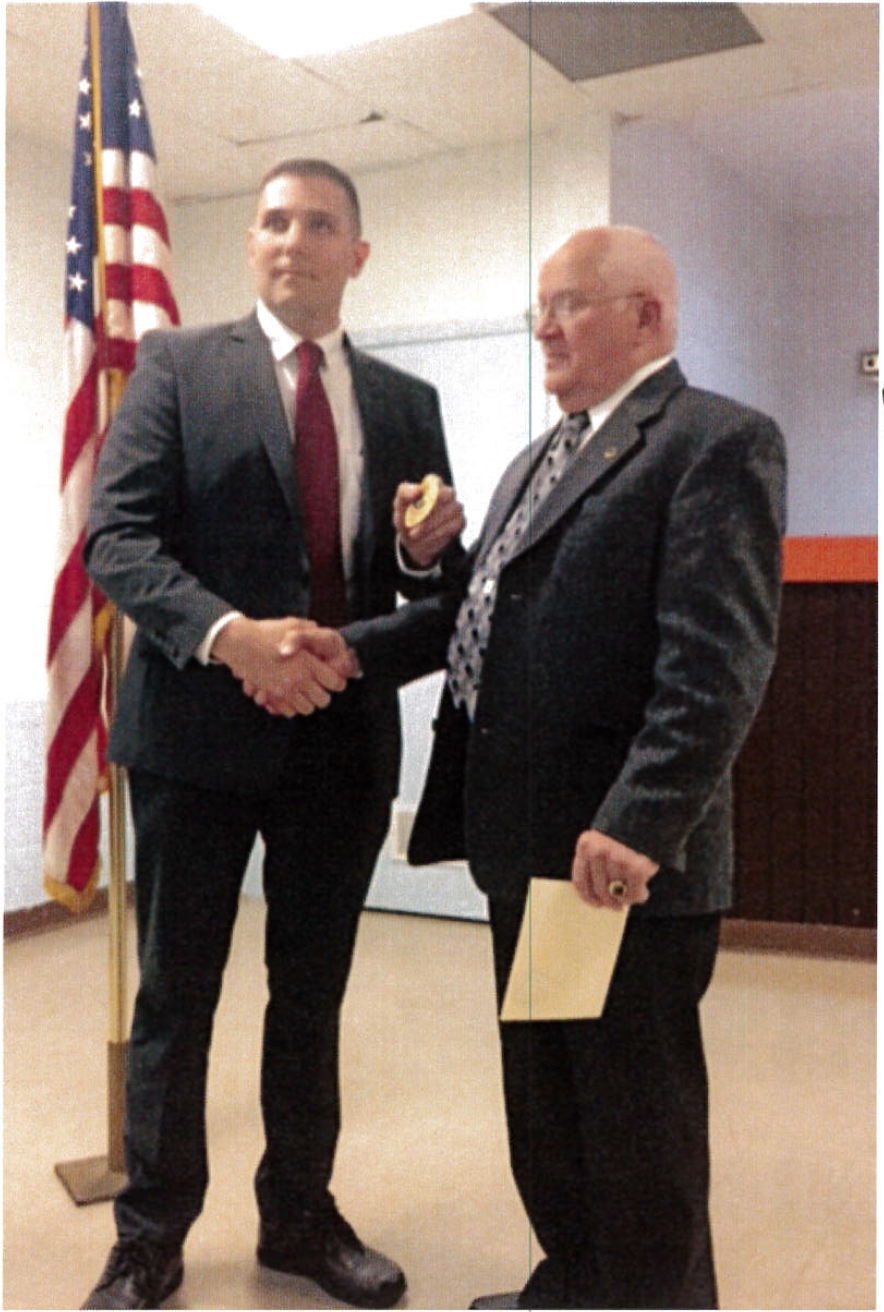 Mark your calendars:
SAVE THE DATE! National Night Out Against Crime - Tuesday 8/7/19 (5-8pm) Gerald C. Yob Park, Cambria + Washington Streets.
Like us on Facebook: "Freemansburg Police Department" for updates
POLICE NON-EMERGENCY NUMBER: 610-759-2200
The Freemansburg Police Department serves a community of approximately 3,000 residents. The Police department is staffed with 10 officers who display professionalism, who place a great emphasis on community policing, traffic enforcement, and deterrence of criminal activity within the borough. The department is undergoing changes in order to maintain our current excellent quality of life in the borough and to keep up with the needs of our residents. I take pride in serving the residents of the Borough of Freemansburg and welcome you to contact me by mail, phone, or email.




<--Police Chief Jonathan Itterly receiving his
Police Chief Badge from Mayor Yob.
May 3rd, 2016




Chief Jonathan Itterly being -->
sworn in by Mayor Yob.
May 3rd, 2016
New police vehicles obtained through Northampton County Gaming Grants


ORD.# 2016 - 003 - Handicapped Vehicular Parking - Adopted 11/1/16
ORD.# 2016 - 004 - Neighborhood Improvement Ordinance - Adopted 11/1/16
ORD. #141 - Health and Nuisance Ordinance
ORD.# 2015 - 005 - Parking of Obstructions Ordinance - Adopted 9/1/15
ORD.# 2017 - 001 - Open Burning and Air Pollution Control - Adopted 6/6/17
ORD.# 8 - 02 - Excessive Noise Ordinance - Adopted 10/21/02
Police Officers
Jonathan Itterly, Chief of Police
Stacy Smith, Full Time Officer
Kevin Foster, Full Time Officer
Ray Mead, Desk Clerk\Officer
Jeff Farneski
Richard Weichand
Martin Ramirez
Mauro Conte